What do our clients think of our service?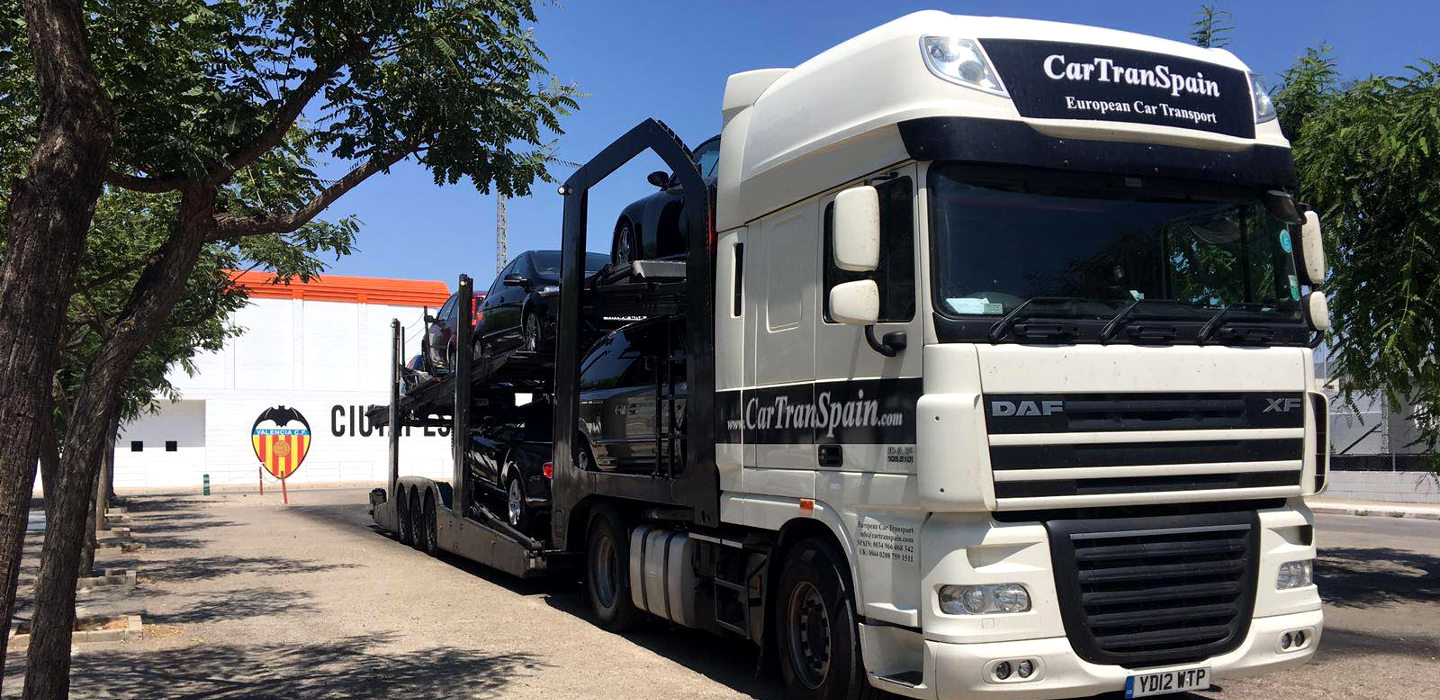 "I needed to move my car to Spain last summer and chose Cartranspain for the transport. I could not be more happy with my decision since the level of professionalism shown by all the members of the staff from the beginning is worth mentioning. After a clear explanation of all the procedure and the documentation required, the car was collected, carried and delivered seamlessly on the agreed dates.10/10"
Álvaro de Miguel
I just wanted to send over my gratitude and appreciation to all at CarTranSpain for your assistance and guidance in conveying Charlie's Bentley from Spain back to the UK. It was not straight forward at first (down to us!) but the vital advice given made the transportation seamless once it was in the hands of you guys. The car arrived when and where stated and more importantly safely. Great to meet Billy and his crewman ( I believe his son?) who cheerfully in the rain got the vehicle off the truck for me with great care and made it look all very easy and professional.
I could not have wished for the process from start to finish to go any smoother and can only only highly recommend the service you provide. You certainly do it right and as if its your own vehicle you are transporting.
Steve
I rarely write testimonials but really want to express my thanks for a first class service.
My car was collected on time, delivered to Southern Spain promptly and I was kept fully informed at all times. Competitive rates and friendly staff, I will definitely use again if needed and would highly recommend. Thanks everyone
Matthew Lewis
I would just like to say a big thank you to CarTranSpain. They took great care in transporting my vehicle from the north of England to Southern Spain. The driver (Matt) picked up my vehicle in England exactly when he said he would, and delivered it right on time to the pre-arranged address. He stayed in touch and kept me fully informed of his progress.
Kim (at CarTranSpain) handled all the admin professionally and efficiently, and there were no problems even in these uncertain 'covid' times. I must admit, this is the first time I have used the services of a vehicle shipping company, and I was a little apprehensive, but I needn't have been. I would use CarTranSpain again in the future, and I would recommend them to anyone else!'
Paul
Hi Kim
I just want to say a huge thank you for a fabulous service. Kevin has just delivered my car back trouble free. You operate a thoroughly professional service and will definitely be using you again.
Simon Roy Toole, Director, Par Petroleum Limited
I would highly recommend Cartranspain for anyone considering having their vehicle transported from the UK to Spain.
They collected the vehicle on the day they said and telephoned in advance to advise the time of arrival.
Delivery in Spain was a day earlier than expected and again they telephoned in advance with the arrival time.
The whole process took just 6 days from collection to delivery.
Billy the driver and Kim in the office helped to make the process seamless.
I would not hesitate in recommending their service.
Keith Moss, Mojacar, Spain.
As you know the car arrived earlier than expected yesterday evening.
Your guys phoned my garage in plenty of time and I was able to get over there for when they arrived.
The car was as it left the UK , your men were very professional and extremely careful in removing the car from the rig.
I am very happy and satisfied with CartranSpain. I will use you again and recommend to anyone interested in transporting their vehicle.
All the best and thank you.
Jaime
Dear Kim and Billy
Thank you so very much for helping us retrieve our car from the Costa del Sol during these testing times for everyone caused by the Coronavirus.
We drove through Spain in January from Bilbao and like many others all of our return ferries we booked were cancelled and had to fly home and leave our brand new car in Spain.
From the moment we contacted you, we were given a totally professional, reliable and personal service enabling us to send our car keys to you and arranging the collection and shipping of our car back to the UK.
Our car was delivered to us on Sunday 17th May in perfect condition and your driver Matt was most helpful and courteous.
What a fantastic service you provided we will always be grateful, and would not hesitate to highly recommend you to others.
John and Paula Robinson
Dear Kim,
I cannot thank you enough for the way you handled the return of my car from an awkward situation in Spain. Having driven down from Glasgow in mid January my wife and I found ourselves in isolation when the COVID - 19 lockdown hit. Our ferries were cancelled four times and facing the prospect of being stranded in Spain for a month or more we managed to get flights home and leave the car in a managed long stay car park at Alicante airport with an uncertain pick up date. Communicating with the car park from the UK was not straightforward and it was so helpful for you to arrange to pick up the vehicle on my behalf.
The vehicle was delivered yesterday (22 April) in perfect condition far quicker than expected and as arranged. Matt, the delivery driver was also so helpful. Cartranspain's service and communication throughout was exceptional; In dealing with the uncertainties, you took away the strain completely and far exceeded our expectations. We are two very grateful customers. Thank you once again.
Steve (Williams)
Just to let you know we were super impressed with your service.
Everything went completely smoothly from start to finish and your communications with us were frequent and very helpful.
We would have absolutely no hesitation in using you again and would be more than happy to recommend your service to anyone else.
Once again many thanks.
Louise & Pete Wolf - Jalon
Dear Kim,
Firstly, everything to do with collection and delivery of my car went exactly according to plan.
We flew out to Spain on the Wednesday 8th January 2020, the car having been collected from Hawkinge as arranged. The driver was extremely helpful. On Friday 10 th, we received a phone call from the driver saying he would be delivering the car on Saturday morning at around 9 am, and that he would phone us about half an hour before arriving. He did exactly that, and then phoned to say he was here outside our apartment.
I was down with him at once, where he unloaded our vehicle. He was professional, courteous, friendly and efficient.
We are extremely impressed with Cartranspain, and very glad we chose you out of many others we were considering.
We shall certainly give you a very good write up and shall also recommend you to many of our friends down here who might be very interested to do the same, now that we have done all the groundwork, and have proved it really is an easy and efficient process.
We should be returning to UK around the end of May, and shall be in touch with you nearer the time.
Thank you Kim for all your help, and we hope you are now feeling completely better.
Kind regards,
Riccardo
I would just like to say what a fantastic job you did transporting our car down to Spain I found it hard to believe you picked the car up on Sunday evening and we were driving it Thursday brilliant job everyone so friendly.
Steven Moremon
Hi Kim
Many thanks for all your help in getting my car to Spain the service was second to none, I would highly recommend your company to any of my friends .
Grahame Albinson
Hi Kim
Yet again a faultless service thank you so much.
Car delivered as promised on the day all in good order.
Driver very polite and helpful, first class service from start to finish.
Gary Gardner
Hi Kim and Billy
Just recieved our car safe and sound , great job we cannot believe how you made it so easy and trouble free it was a pleasure doing buisness with a company that simply deliver what they promise, many thanks.
5 star service!
Julie and Bryan Colling, Leeds
Hello Kim,
Sorry for my late reply but just to say how pleased I was with your service with regard to the pick and delivery of the VW Beetle.
Please pass on my thanks to both your drivers in Spain and the UK. Both really helpful and pleasant people and operators.
I will definitely use Car Trans Spain again and will let anyone I know who is thinking of shipping a car from the UK to Spain or vice versa how good you are as a company.
Thanks again for all your help and assistance it is very much appreciated.
Chris
Morning Kim. As you probably know by now, Kevin delivered our car to us last night. Many thanks to you for organising the transport, answering my queries so promptly and keeping us informed.
To Kevin for safely delivering the car to us and for all the other guys involved in the process including the staff at West Drayton storage. A great service and totally stress free to us.
Thank you
Penny
Would just like to say what a professional company you are dealing with the office Fantastic always kept up to date the guy that picked up kept me informed all the way and got here when he said fantastic fella good sense of humour looked after the car as if it was his own a credit to your company a massive well done car got to Destination on time when promised.
Overall fantastic company to deal with from start to Finish. Thank you and if needed I will use you again.
Mr Brian John Knox A.M.I.M.I.
Dear Kim,
Where do i begin???
Your service is second to none. From the moment i contacted your company about transporting my husbands cars till they were delivered all in amazing care.
The driver Mick...Was so helpfull and really accomodating with his devoted care and attention...Because my husband has an terminal problem with his lungs...Mick the driver really understood this...So he knew that between me and him we had to unload the cars...
And because of his kind nature Every thing turned out perfect...My husband is so pleased with your company that as far as we are concerned ... There will never ever be another transporter company that can ever compare to yours'....My husband and I can not thank you all enough....
Jenny Baughan, Gaucin, Spain
Dear Kim,
Our Classic MGA arrived in Coin, Southern Spain today from Essex and I would like to say what a great service you and your drivers provided.
The whole experience was hassle free, my questions answered professionally and the door to door service was exceptional.
Please pass on our thanks to Bob and Mickey and thank you for providing a great service.
I will certainly highly recommend Cartranspain to our friends and acquaintances in Spain and the UK.
Many thanks
Trevor and Sue
What a great service you guys have provided from start to finish. Cartranspain have been professional and courteous from Quote to delivery, email responses on the same day, regular updates from the delivery driver and I was offered a service for a great honest price with absolutely no hidden costs or nasty surprises on delivery. I am over the moon with the cost and the service. I would recommend these guys and gals to everybody who needs to transport a car across Europe.
Rich
A BIG THANK YOU for the safe return of my VW Golf last Wednesday.
Really Great no fuss service you have given me UK/SPAIN/UK this year.
Would recommend your company to anyone wishing to transport their vehicle to Europe
Best wishes
RW
I used Cartranspain to bring my Mini over to Moraira from Leamington Spa. A great decision. Competitively priced, the ease of arranging the pick up and drop and the professionalism of all the staff I encountered made the engagement trouble free.
I'll definitely use again.
David H
Hi Kim,
Just wanted to send you a note to say thank you so very much for your services.
Your service is exceptional and you guys made the shipping of our car back to the UK smooth and stress free. Your professionalism, communication throughout really was seamless. I absolutely will not hesitate to highly recommend your services. You provided a fantastic service and Micky is just great!!
Best regards,
Rachel
Hi Kim
I would like to say a massive thank you to Cartranspain for helping my father out of a crisis with his van with your help and guidance it is now safely back in the uk i couldn't recommend you and the company more highly and for keeping us updated every step of the way thank you all once again
kind regards
Joannne and Dennis Gander
Good morning Kim,
Just to say all went well picking up car from Kevin this morning.
Thank you for providing such a brilliant professional & friendly service,it will be our pleasure to recommend you to anyone seeking similar runs.
Kind regards
Graham
Dear Kim,
I just wanted ti say a big thank you to you and the Cartranspain team. You have provided an excellent service with great communication every step of the way. My elderly parents were truly worried as to how to get their car back to the UK but Cartranspain sorted everything out a treat,
Thanks again
Christian Garland
Hi Kim,
I would like to say a huge thank you for the service provided by Cartranspain, my car has just arrived safely in Marbella and I can say that Jona has been of excellent service, keeping me informed at all times from pick up to delivery, even delivering earlier than I expected.
I will definitely be using you again and recommending you to my friends and business associates. Thank you so much again , I'm very pleased indeed.
Stephen L. Pearson
Hi Kim,
Audi TT arrived safely.
I have to say that the service from you and your team has been absolutely first class. Everything from the price to the collection and then the drop off exceeded my expectations. Communication has been brilliant and to receive the car a day early has been a huge bonus for me.
Your driver, Billy, was great today!!
Thanks again and I will definitely not hesitate to use your company again in the future.
Kind Regards
Andy
Hello Kim,
Just to say how pleased and impressed I've been with the service you have provided me with.
My (valuable) car arrived in Spain on time and undamaged and you kept me informed of the progress at every stage of the journey.
Thank you ( and you're driver ) very much. I will definitely use Cartranspain again if the need arises.
Kind regards,
Richard Rihan
Hi Kim,
Just to say that we were delighted with your company from start to finish, great customer service throughout and would definitely recommend you to others and use you again in the future.
Kind regards
Sheilagh and Peter, Murcia, Spain
Hi Kim,
Firstly, thank you for all your help in the smooth move of our Landrover from Costa Del Sol to Lancashire.
Also can I say what a very nice guy Jonas was, a credit to the company.
I'll leave you a review on your site.
Once again, Thank You.
Regards
Martin
Hi Kim,
Just wanted to say thanks for getting the car here it was all very simple, professional and overall a great service, many thanks.
Kind Regards
Jonathan Aylmer
Hi Kim,
just to let you know that car delivered and what a great service cartranspain gives.
Would highly recommend you.
Regards
A Foster
I recently used Cartranspain to send my car back to the UK from Spain. The service was professional and friendly. They kept me informed by phone of their arrival and were on time collecting the vehicle. Would thoroughly recommend them and will definitely use their service again. Malcolm McGreavy.
Thanks Kim, will contact you again later this year.
Kind regards,
Malcolm McGreavy
Hi,
Just wanted to say thank you for providing a brilliant service. Completely hassle free. Very impressive.
Kind Regards
Mark Reuben
Hello Kim
Camaro is here all good!
Very impressed with Gary. Thanks for all the help.
You and Gary have won a long term customer.
Best regards
Peter
I have shipped my car with Cartranspain and all has been really easy. I was thinking about driving my car from UK to Spain myself, but I had to ask for days off at work and drive long hours, apart of the cost of petrol, ferry...etc. Finally I realised that shipping my car with Cartranspain was quicker, easier and cheaper.
The driver collected the car just at my door house in Uk and left it in Spain four days after without a problem at the address I asked to.
I fully recommend this company, they are really nice and efficient.
Thanks for all,
Susana
CARTRANSPAIN.
Will never use anyone else, they turned a crisis into "just another day at the office". Took control of a chaotic situation and saved my sons car and my sanity. Cant thank you enough.
Sally Bridges
Hello Kim
Delivered fine
Thanks a lot for the efficient and professional service.
I have to say that the servce you provide is vastly superior to one I first went to for transport of a Jeep to UK for MOT and then return. Their charge was about 10% less then you charge but they took three months to deliver and return the Jeep. I had to hire a car for two months and the cost overall ended up more than double your charges. There was no recompense offered for their attricious service and for me to get justified recompense I would have had to sue them, and in Spain that is just a waste of more money.
When I need a vehicle transported to or from the UK I will use Cartranspain where the service is what I expect.
Best wishes
Neil Yates
Good afternoon Kim,
I just wanted to say thank you to yourself and your company. My classic car arrived safe and sound and the whole service was excellent. My father runs the classic car club in Malaga and I have already passed on your details to club members who transport cars regularly.
Kind regards
Omar
Hello Kim
My car arrived successfully yesterday and I just wanted to say a big "thank you" for the excellent service I received. Your driver Gary Moonie is a credit to the organisation, he was very attentive, punctual and polite to me as a customer, please ensure that the "boss/owner" of Cartranspain is aware of my praise for Gary´s hard work in deliving my car! I am very impressed with the service I have received from start to finish and I will have no hesitation in recommending Cartranspain to anyone who wants to transport their vehicle from UK-Spain-UK.
Best wishes for the future!!
Keith Barthorpe
Hi Kim
Just wanted to drop you a quick line to say thank you for another perfect job delivery to Walsall from sl04Malaga.
Kind Regards
Steve
I highly recommend Billy and his Team. He transported my fathers car back to the UK and I was at the other end to receive it. At all stages I was kept informed. Kevin the Delivery driver was very helpful and friendly. A totally stress free experience.
Thanks again
Tanya Reynolds
Just wanted to thank you for the excellent service your firm provided, returning my car back to Wales.
The communication was brilliant and the staff a pleasure to do business with.
Kind Regards
Derek Henderson
Dear Kim and Gary
I have been meaning to send an email to you both and your company as a whole. Just would like to say thank you for the service transporting my car over from Spain to the UK - I have found the experience 1st class and would not hesitate to use or recommend you.
Also would like to thank the gentlemen who delivered my car to my folks house in the UK they said of him he was a very likable person.
Cheers again
Ayo Moses
Received the car today, just wanted to say thank you very much for a fast efficient hassle free service, will defiantly be recommending you to anyone looking to ship their car.
Again thanks to you and your team.
Nickie & Colin Paton
Only just got round to say thank you for delivering my girlfriends mini, we are so happy with the service you provided. this has been the first time in 10 years I have actually ever written a email of thanks.
The company's I usually deal with just don't care and it's nice to know that decent company's still exist. Perfect communicating all on time and no hassle thank you very much I will suggest your company to my friends and family and I will certainly be using you again.
Mr Kelly Hartle
Vehicle collected and delivered on time. Very fast efficient service. Highly Recommended. Special thanks to Kim & Billy.
Charlie Price, Automania Garage Services Heathrow
Kim - seriously, i have been really impressed with the whole service - from your prompt reply to all my questions to Kevin (i think thats his name) your driver.
Simon Sabel
Dad's car is there safe and sound and also promptly, I am so impressed with your service and so is my sister and also my dad will be when I tell him the car has arrived.
If we get an opportunity to recommend your company to anyone then we will do and with flying colors too!!
Also thank you to you Kim in the very efficient way you handled the numerous inquiries from us, it is very reassuring to know you are dealing with people who know their business and run it well.
The car will be returning some time in April I think but we will be in touch as soon as we know the dates.
Thanks once again for all your help it was very much appreciated.
Jayne Farrer
Just wanted to say thank you so much!! I received my car today, Billy was lovely and it is great to have my car.
After being let down after a 6 week wait, I can not believe how quick it all was, 5 days with a weekend included, absolutely first class! I will be happy to give a reference if ever you want one.
You have really delivered great service and it is very much appreciated.
I will definitely use you again and recommend you.
Linda
We have been notified by our friend in the UK that our Citroen C4 has been delivered on the date that you specified.
We'd like to thank you and Mitch and your colleagues in the UK for being so efficient and providing such a great service. The car was delivered on time despite the fact that Mitch was greatly hindered by the ferry strikes in Bilbao and we were kept abreast of progress all the way.
Unfortunately these days it's not often that you come across a company like yours that pays such attention to the provision of a quality customer service. We're glad that we chose you to transport our car and we can highly recommend your company.
John Young & Vivienne Morgan
I would just like to thank you guys from the bottom of my heart for getting our beloved campervan home.
We met Mitch in Spain on Sat 8th Sept at 1.30 pm (just as he advised) and my Dad called me on Wednesday 12th Sept at 6pm ish to say the van was home safe and sound. I can't thank you guys (especially Mitch the
driver) enough.
An excellent service door to door with no worries at all. You guys rock!! Thanks so so much for looking after our van (and all our belongings packed in the back) I also have lots of photos of the van being picked up and on your truck if you would like them for your website. Thanks again i will sure recommend you guys!
Claire & Danny
Thanks so much for your fantastic service in transporting my car from London to Costa Del Sol..From beginning to end it was efficient, professional, friendly and very reasonable on cost Kim in the office was a delight to deal with, always answering emails promptly, and our car was waiting for us at Malaga airport at the other end. If only ALL companies were this good, our lives would be a lot easier !
Thanks to ALL the team in UK and Spain..I will highly recommend you to all that ask !
Bill P, London (now Spain! )
This is just a quick e-mail to thank both you and billy for bringing my car back to the UK from Spain. I am pleased that we chose your company and the service we received was very good and professional. I will have no problem recommending CartranSpain to anyone who needs vehicles moving !
Once again Thank you very much.
Richard Macey, North Devon
As you know you delivered my RX8 to me in Estepona today, I just want to say that I am very busy here with my Kitchen company because I always give a good service to my clients. Your company too give a great service, picked my car up in the UK ( when you said you would) and dropped it off at my doorstep here in Spain ( again when you said you would).
I will recommend your company to anyone wanting to transport cars to and from Spain. Please pass on my thanks to all concerned and keep up the great service.
Andrew, The Kitchen Room, Estepona
Thanks for the safe transportation of the Saab to Spain, Billy and yourself are a credit to your company.
Peter Brodie
Just a line to say that we are very, very pleased with the service you provided. our car was delivered on sunday by kevin and we can only express our grateful thanks. A great job done. we will certainly recommend to our friends.
Kevin & Daria Walsh
THANKS FOR A FAB JOB....HAPPY TO RECOMMEND YOUR SERVICE TO ANY ONE THAT HAS ANY DOUBT TO USE YOUR SERVICE!
Tony Bowen
Have had my car delivered, thank-you. I must say, again, your driver, Kev, was excellent and very helpful. Every-one in your company, is polite and professional. I will be using your company in the future, and definitely recommend you to people. Many thanks for your time, trouble and help,
Brad
Just wanted to say your service was excellent, and couldn't believe how quick you responded to my emails. Will deff pass your name on to others, but forgot to ask Billy for some business cards. Hope you are both having a better day to day and Billy gets his back lights sorted out.
Mandy
Thanks for a great service getting my car to the U.K from Spain, sorry haven't e-mailed sooner but been on hols. Give my regards to Billy and l will call you next year.
Geoff Waddilove, South Eastern Tanker Services Ltd
My wife and I have now arrived in Ibiza and had our first drive in the Suzuki.
Helen has asked me to pass on her very best thanks to you. You were fantastic last Thursday (her words) I'm sorry for the inconvenience because of the ferry delay but it all worked out well in the end. I think that with car hire prices rocketing, there will be a lot of people bringing cars down to Spain and the Islands and I will have no hesitation in recommending you..your service has been great.
Many thanks again to both you and Billy.
John Cushion
Just a quick mail to thank you both very much for transporting the car safely back to the UK. We arrived safely today. Easyjet were fantastic and we received assistance all the way for Jeremy, which was a weight off for me.
Thank you again.
Katy and Jeremy Sweetman
Over the moon with the service you provided, it was a real pleasure doing business with you.
Be assured that I would have no hesitation recommending you to anyone who requires car transportation, likewise Scott at Corvette Kingdom in Norfolk who has many customers in Spain, also was very impressed and again would not hesitate to recommend your services.
Scotts comments to me were, Nice guy, nice wagon and he cares about what he is doing which is hard to find nowadays, my sentiments also.
Brian Rae
Just wanted to say a massive thank you for the excellent and pleasant service form yourself and Billy .When we sent the car over earlier this year it was an absolute fiasco so to have the whole thing dealt with quickly and efficiently what wonderful . We will not hesitate to recommend you to any of our friends should they need this service . Wishing you and your family a very Happy Christmas and New Year .
Ann Keating
Thank you once again for the care and brilliant service that you have given me on moving my cars from the UK to Spain. This last load of two cars, a Maserati and a Jaguar XF, the cars were picked up in Poole at 2.00pm on Friday afternoon and delivered to me at 6.30pm on Sunday evening. You just can't get better service than that!
Not only is the service excellent, but the price is right too. We recently drove a BMW diesel down from the UK and the cost of delivering via Cartrans Spain was approx 25% less than driving the car ourselves. Once again, thank you very much, please don't hesitate to have anyone call me should they require reassurance.
We shall definitely use your services again in the future.
Maseratisti
Just a short email to say a big thank you to you and Billy for all your help in transporting my Mercedes which arrived nice and early today.
Billy had no trouble getting down the narrow road near to the garage and was just off loading the car when I arrived. Good timing!
Funny thing is the car behaved perfectly on start up so maybe my car doesn't like the hot Spanish weather! I'm sure Mark my mechanic will find something amiss but it certainly made me laugh after all the work getting it here.
Anyway thank you once again and hope your business continues to do well - it's a great service!
Angus
As I am sure you will be aware, Ann was reunited with her Mini Cooper last night at Trowell Services. We had a very pleasant handover by Billy, who had been badly delayed, apparently at Swansea Docks. Thank you both for your professional, efficient, and courteous service.
Ann & Robert Dorrington